Top 5 Ancient Mountains in China
About the Ranking
Numerous mountains are one of the great attractions for foreigners. These mountains all show their own characteristics. They not only get the beautiful scenery, but also have long history. Some famous mountains can be traced back to ancient times. Visiting them will bring you near to the ancient China.
1
Wutai Mountain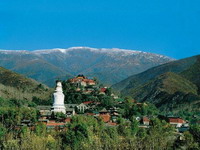 Wutai Mountain formed 2.85 billion years ago, is named since there are five main peaks encircling one another, with all flat land wide tops and much like five platforms. Wutai Mountain is a national scenic and Buddhism spot, a famous summer resort and the best place for tour, which is renowned at home and abroad. In China, Wutai Mountain takes first place among the four Mountains well known for the Buddhism. There are existing 108 temples constructed with all the essence from various ancient buildings of past dynasties as Wei, Qi, Sui, Tang, Song, Yuan, Ming and Qing dynasty and the Republic of China, which are precious historical heritage of China with extremely high scientific value.
2
Emei Mountain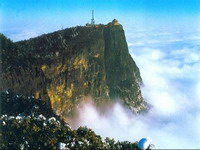 Located in the southwest of Emei County, Sichuan Province, the Emei Mountain is one of the Four Buddhist Shrines in China, formed in Late Tertiary phases. The mountain is known for its stiff cliffs, high rising peaks, roaring waterfalls, gurgling springs, towering ancient trees and fragrant flowers. It has been described as "a beauty spot under heaven" by Chinese men of lettered since ancient times. There are plenty of historical sites, and a lot of precious cultural relics on the mountain. Inside the temple, there are several hundred other bronze or iron statues.
3
Yellow Mountain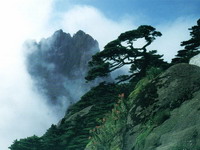 Yellow Mountain (Mt.Huangshan) formed 0.14 billion years ago; range covers an area of 1200 square kilometers (463 square miles). It is famous for the uniquely shaped pines, the fantastic rock peaks, the sea of clouds and the hot springs. The mystic clouds drift in and out, changing the scenery from minute to minute as the mist rises and ebbs. One would think this is where the gods reside. Of all its numerous peaks, 72 are named by their shapes or after certain historical and religious figures or themes. However, major peaks that attract most visitors are the Bright Summit, the Heavenly Capital Peak and the Lotus Flower Peak.
4
Tai Mountain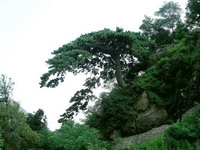 Tai Mountain lies in central Shandong Province, covers an area of 550 square meters, formed 100,000,000 million years ago. It was regarded as preeminent among China's Five Sacred Mountains. 72 Chinese emperors of various dynasties made pilgrimages to Tai Mountain for sacrificial and other ceremonial purposes. Tai Mountain is endowed with many scenic spots. A large number of them were given names in ancient times. They include 112 peaks, 98 precipices, 18 caves, 58 oddly shaped rocks, 102 streams and valleys, 56 pools and waterfalls, and 64 springs. Vegetation covers 79.9% of the area. The flora is known to comprise 989 species in 144 families. It also boasts cultural heritage with an incessant history of several thousand years.
5
Lu Mountain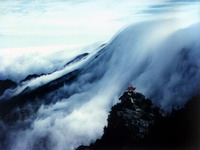 Lu Mountain is located in the northern part of Jiangxi Province; it has a history of more than 60,000,000 years. The scenery in Lu Mountain scenic area is breathtaking. It is full of sheer peaks and precipices, changeable clouds and fogs, silver springs and flying waterfalls. The flora is diverse and comprises about 3,000 species. Features of glaciations during the Quaternary Period make Lu Mountain even more mysterious. There are millions of migratory birds in the Poyang Lake area. The dancing of the largest number of cranes over the water makes it a world wonder.